Hey yo guys,sorry for the late updated,well today main topic as mentioned ah,my big day in maple,my wedding with BABE YAN !!!
Okay lets start the story of the day !
I woke up and went breakfast with friends like i mentioned at the last post mah,ya and badminton loh,knew what i really whole body pain after badminton...i am getting old...hey no wait,i am not old just long time no exercise ! ( If i said i am old,Yan wont marry me >.> )
After badminton session we went to have lunch together luh, then they went lan shop as usual -.-
For what they play dota of course so i must join cause not enough player @_@ ( i quited dota for years leh T_T )
I dont know play never mind luh at least i got the basic knowledge and skill mah,but my friend is totally..dont know how to play -.-
Dont want talked bout it,it made me wanna laugh and pissed :x
I went home after this.i remembered that i need to buy another 10k maple a-cash for wedding else not enough,so i ask them,afternoon go out eat ice kacang so i can go buy a-cash also luh
Aikz rm24 gone into a 10k a-cash...
I forced to diet leh eat bread,no money leh lah T_T
Is evening !!!
But i still mapling with XuWeiwei,playing monster carnival with bel and kenji :x
Yan is still papu
We are the one marry lah,but i wonder why hor,others more nervous then us >.>
Keep ask us when ? fast ! over liao ?!
Okay lah okay lah i shall prepare for wedding due to buddies inpatient f3
All buddies is online,everything prepared,manda and mich go lan shop and attend my wedding i am touched ! T_T
Thanks manda and mich for attend !!
Okay the wedding shall start !
Lets the screen shot talk !
Is ashy,nainai and jeejee on the guest seat ! Thanks for coming ya !!
More and more guest entered !! ( we used to called each other babe hehe :x )
Zoo wedding ?? See the top guest seat !!!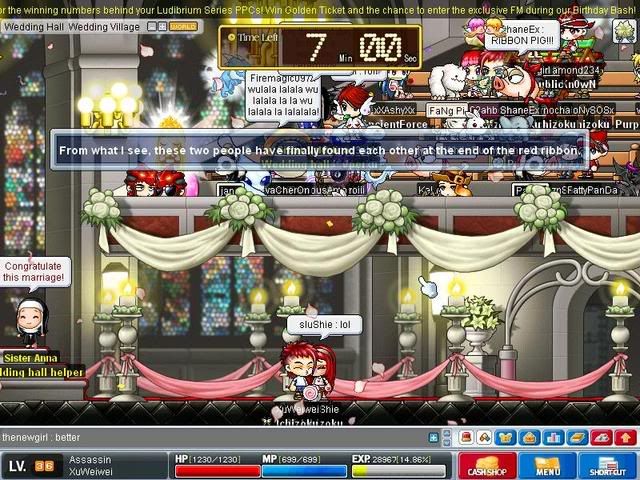 The wedding started !!!!! We love the kiss face is so cute !!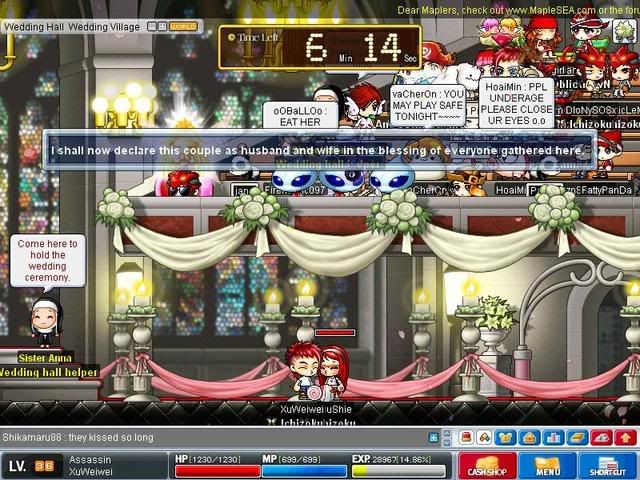 Hey mich ( vaCherOn ),you think i will play safe ah f3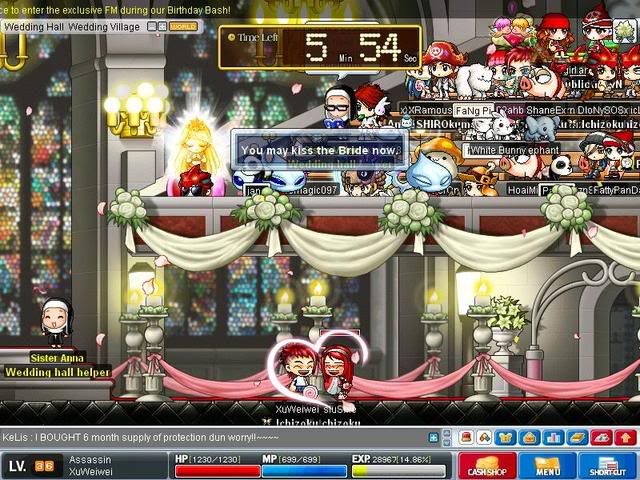 You may kiss the bride now !!!!!
Here is the kiss !! I just love the love shape but too bad i late to take the screen shot T_T
Wah chaos photo taking session WOI GIVE FACE TO ME LAH AT LEAST SHOW THE COUPLE FACE !!!
Finally got chance to show our face >.>
Happy wedding for myself and yan ~
I cant take much screen shot lah cause i am the groom :x
My guild blog got a few screen shot also,go to my friend list and see it !!
After the wedding we got zak for cookie,everything prepared and start loh...
But is bad..my party's bishop and dark knight disconnect,made me spammed extra potion till i cant manage to survive the zak,i feel so useless and shit at the moment...
Then manda came and try to comfort me..but i just hurt her..i am too harsh in words..sorry manda mei :(
After that i asked Yan hows the zak,she also died due to no more potion..aihz ><
But gratz roiii helmed at level 50 !!
After that i had a short chat with Yan before she went sleep
Me : Hows the zak ?
Babe Yan : I also died cause no more potion
Me : har -.-
Babe Yan : Doesnt matter for me de lah
Me : I feel sad and useless leh i cant helm for cookie
Babe Yan : Things happen leh dont sad leh lah babe
Me : Aihz..i buy cheese put back at cookie's character
Babe Yan : Eh i got used his cheese also i also return him
Me : No need lah i return
Babe Yan : DONT WANT I WANT RETURN
Me : Okay okay but now late leh go sleep first i return him first tomorrow you only return to him loh easy ( was trying chase her go sleep :x )
Babe Yan : Dont want,you bluff me de,i got read your blog de okay ? Last time also same chase me go sleep and bluff me,i dont care i want return,i ask wai prepare leh login go take else i dont want sleep !
Me : Okay lets dont sleep ( i knew she want to sleep badly f3 )
Babe Yan : Zzz if you dint go take,wai will angry,he will scold me and whack me ~
Me : ......
Babe Yan : Faster go in ~~ I am waiting for you ~~
Me : Damn you babe,sipek guai lan
Babe Yan : Learn from you nia =p
Me : Woi i guai only loh,where got guai lan
Babe Yan : Then you guai i lan loh,together mah guai lan lah ( wah sweat but sweet hor :x )
Me : ... ( Then i go in took the cheese )
Babe Yan : Okay i go sleep leh bye babe muah ~
Me : Damn you sipek guai lan !
Babe Yan : Ya i am guai lan but you married me sorry f3
Me : -.- ( I totally speechless man... )
Babe Yan : Sleep tight ~~
I am so speechless loh -.-
The next day,is sunday,aww thats bored no outing !
And around 1-2pm Yan is online !
So we decide to go for marrython ! ( Inspired by nainai,RenaiShashin :x )
Whats marrython ah ?
Er...means marry till maplers dulan loh cause now wedding got bug so can keep marry :x
Our main purpose is to get scroll,potion and equipment only :x
I got a few screen shot for the marrython also :x
Started with no guest :/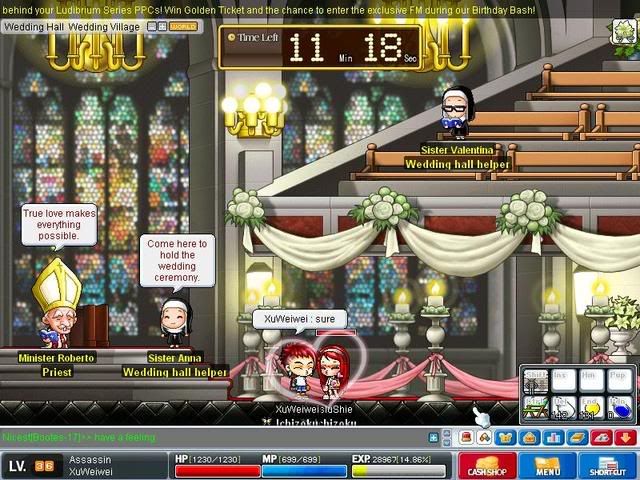 The love shape again !!!!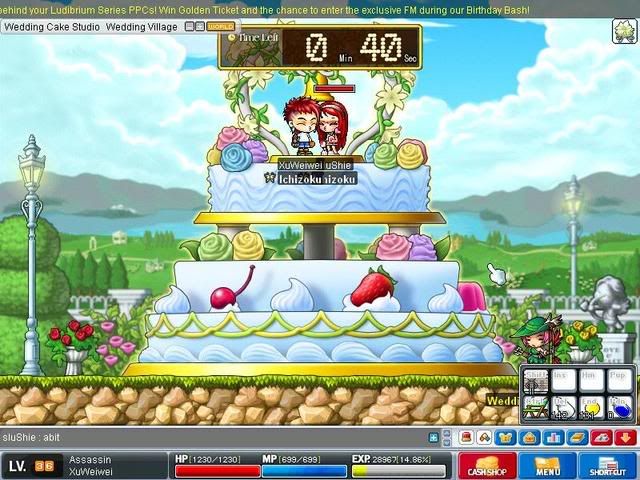 Hahahah finally can take a nice screen shot !!
Cause my scroll lock got some problem i cant take any screen shot onwards ><
But thanks for wai,ty,cookie didi,aunty ling and others to join the marrython :x
I was bored,Wei Sheng at taiping,he called us go out yam cha oh ~
So..Swee Kheng,Kah Yoong and me go luh, cause ah after few days more,all friend leaving again :(
After dismissed,we suggest that,night go Kah Yoong's house overnight and watch Euro 2008 !!!
The match between German and Poland !!
At night when we reached his house ah,i help both of them install maple in their laptop luh,Kheng started play maple for fun hahahaha
Suddenly,Yan sms me ask me sleep leh mah,and i said no
She phoned me again xD
And we chat for almost 1 hour i think,she bored and sleep so she phoned me to chat hehehe
She going japan later,8am flight,i think now she on the plane sleep like a pig :x